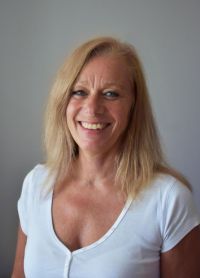 In 2005 Alison graduated with honours from the 2200 hr Massage Therapy Program at CDI College in Toronto. She is a registered member of the College of Massage Therapists of Ontario (CMTO) and an active member of the Registered Massage Therapist Association of Ontario (RMTAO).
Alison has a focus on the neurology of movement and has completed NeuroKinetic Therapy Level 3, Z-Health's Essentials of Elite Performance and Restorative Exercise.
Being able to combine these with Massage Therapy has given Alison experience in many different types of rehabilitation, and she has a well-rounded practice for pain management, restoring movement and overall health.
Alison has also had extensive experience with medically specialized populations such as Multiple Sclerosis, Parkinsons, and Fibromyalgia, as well as people recovering from joint replacement and other surgeries.
Alison is a trauma informed therapist and makes her treatment space and treatments a safe and comfortable environment.
When she is not working, Alison enjoys cooking, reading, learning, working out, gardening and being outside.