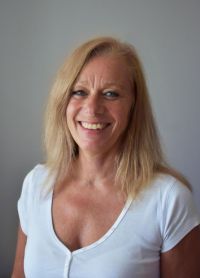 In 2005 Alison graduated with honours from the 2200 hr Massage Therapy Program at CDI College in Toronto. She is a registered member of the College of Massage Therapists of Ontario (CMTO) and an active member of the Registered Massage Therapist Association of Ontario (RMTAO).
Alison has a broad range of experience having worked in chiropractic offices, her home based clinic, and now her own Massage Therapy and Movement Studio. For 2 years she was also a team trainer for elite level girl's fastball teams travelling throughout Canada and the US.
Alison has studied Movement and Restorative Exercise with Katy Bowman and Self Care Techniques with Jill Miller using the yoga tune up balls. Other modalities Alison has had extra training in include Deep Tissue Therapy, soft Tissue Release, Positional Release, Myofascial Release, and Reflexology.
Alison has now turned her focus to the neurology of movement and has completed NeuroKinetic Therapy® Level 2, SensoriMotor Retraining Technique and Z-Health's Essentials of Elite Performance.
Being able to combine Massage Therapy with NeuroKinetic Therapy®, SensoriMotor Retraining, EEP and Restorative Exercise has given Alison experience in many different types of rehabilitation, and she has a well rounded practice for pain management, restoring movement and overall health. Alison has also had extensive experience with medically specialized populations such as Multiple Sclerosis, Parkinsons, and Fibromyalgia, as well as people recovering from joint replacement and other surgeries. Alison is a trauma informed therapist and makes her treatment space and treatments a safe and comfortable environment.
Alison offers the highest quality of care to her clients. She is friendly and knowledgeable and cares about all aspects of your treatment. She will customize each treatment to meet your specific needs by incorporating a variety of assessment and treatment techniques that are best suited to you as an individual.
As part of Alison's unique service, you will be provided with knowledge of self-administered pain management techniques such as stretching and strengthening exercises and the use of heat or cold therapy to do at home which puts you in control of your pain management and helps you get the most out of each treatment.
Alison is very dedicated to improving the general well being of all her clients.
When Alison is not working, she enjoys cooking, reading, learning, working out, powerlifting, gardening and being outside.